Community Physical Infrastructure
Community Infrastructure Projects are identified by communities, designed with their active involvement, implemented, monitored and sustained by them.
In most Remote Areas SRSP Infrastructure Projects are the life-line of Communities.

Large parts of the areas where SRSP works have little access to public services because of the long geographical distances, thin spread of population and difficulties of setting up systems to address needs by public service delivery providers in such areas.
Since Inception we with the help of our partners have
At a Cost of Over
11 Billion
Rupees
Benefiting
2.3 Million
People
Infrastructure Development
Infrastructure Development is an integral component of SRSP, helping in socio-economic development of rural areas. Through Community based approach SRSP has designed and constructed Bridges, Drinking Water Supply Schemes, Link Roads, Irrigation Schemes, Schools, Health Centers, Protection Walls and Mini Dams and Soil Conservation Schemes. It has benefited over 2 Million Households, with an investment of over 10 Billion PKR.
Our Small/Medium Scale CPI Portfolio
SRSP's small scale infrastructure portfolio comprise drinking water supply schemes, irrigation schemes, Integrated Area Up-gradation Projects (IAUP), Soil conservation schemes, Sanitation schemes, micro hydro projects, roads and bridges, solar energy projects and bio-gas plants. Out of the mentioned schemes, over 40% have been initiated with women community organizations
Once the projects are designed and cost estimates prepared based on market rates, terms of partnership are developed for working with the communities. The communities establish implementation, audit, accounting and monitoring bodies which provide oversight for the projects and also contribute towards the building costs. All payment on projects are made directly to the community organizations through cross cheques delivered in open public meeting where the entire costs and expenses on a project are laid before the community. Many of the projects have been evaluated rigorously to determine their cost benefits, social returns and economic benefits.
SRSP has experienced teams of Engineers who provide technical guidance and supervision for these projects and a good MIS system which maintains a record of them. For Details on SRSP CPI Activities please visit the Statistics section which contains the updated figures.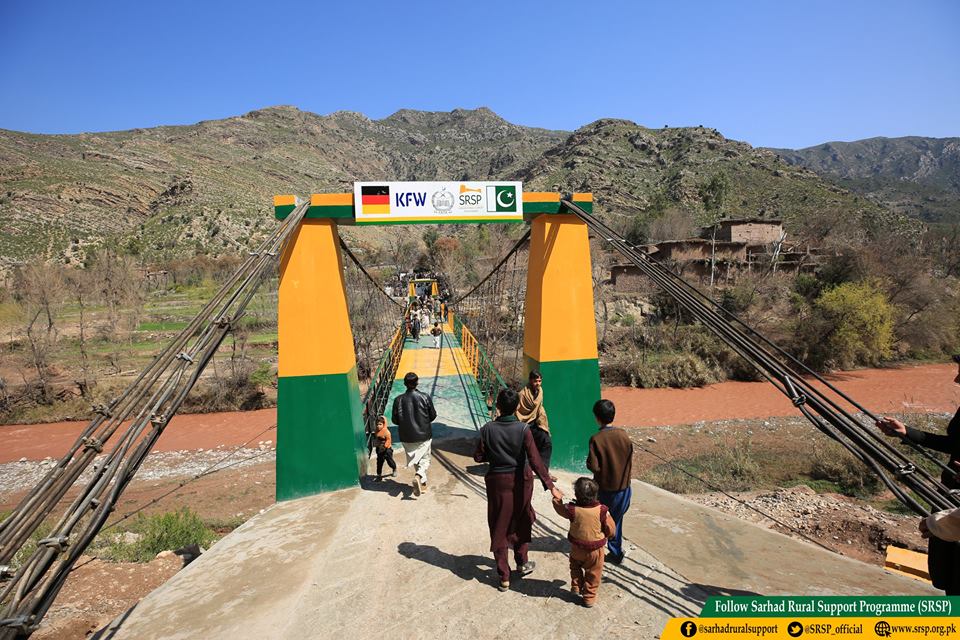 Evaluation of Immediate Impacts of Community Physical Infrastructure (CPI) Projects under Expanded Early Recovery Project (EERP)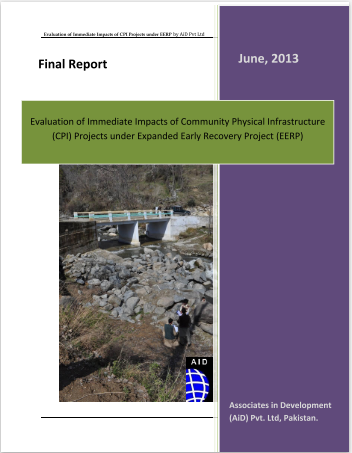 The 2010 floods affected large parts of Khyber Pakhtunkhwa. Nearly 1,500 people lost their lives and 37,000 homes were destroyed. Malakand Division was one of the worst affected areas. During this period, AusAid funded Sarhad Rural Support program (SRSP) for 'an initial Early Recovery Programme designed to target the flood affected districts of Peshawar, Nowshera and Charsadda.
More than 400 households get access to clean drinking water, after the construction of two solar powered water supply schemes in two villages of Tehsil Tiraza, District South Waziristan. These schemes are completed under "Reintegration and Rehabilitation for...
read more