Human Resource Development
One of the important components of human development is technical vocational education and training TVET, which over the years has gained tremendous importance.
The Human Resource Development Section of SRSP is responsible for undertaking orientation and staff development courses on a regular basis and building up staff competencies. It also organizes conferences and workshop to share experiences from the field and make learning an important part of SRSP's work.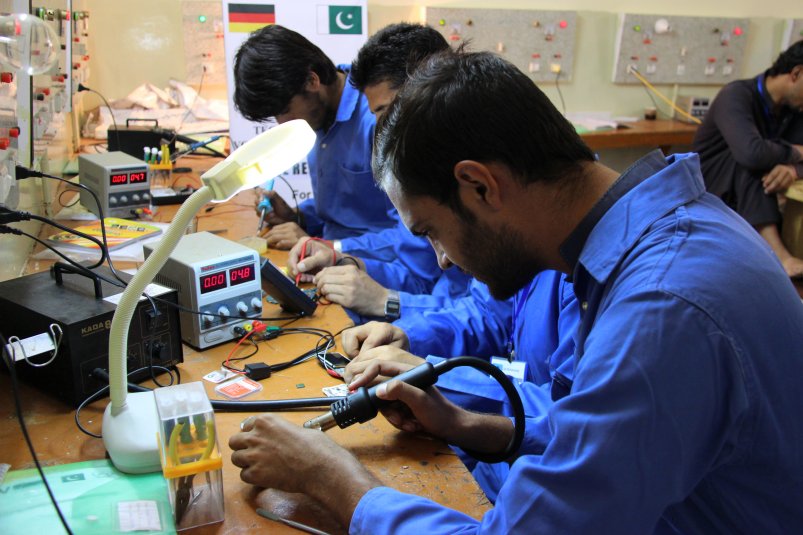 SRSP established its Human Resource Centre in 1996. Before initiating trainings, basic need assessment of local markets, Industry and Agriculture sector is carried out to identify potential markets / industries. Once needs are identified, HRD Center utilizes services of sector specialists/ skilled instructors by hiring their services for each activity. HRD Centre provides adequate operative equipment and consumable skills practicing material. The training process is vigorously monitored at the training centre and regional offices to ensure quality and standardization.
348,541
Leadership and managerial skill training for communities
140,504
Technical/Vocational Skills, specialized or NRM skills development trainings for community members
Development and its Approaches
Social Mobilization & Community Development
Planning Monitoring Evaluation & Research
Conflict Management and ADR Skills
Gender & Development
Enterprise & Value Chain Development

Disaster Management
Rights & Obligations
Participatory Hygiene and Sanitation
Transformation (PHAST)
Financial Management
Community & Leadership Management Skill Trainings
Men Training
Women Training
Electrician
Tailoring & Stitching
Plumbing
Tie & Dye
Tailoring
Adda Work (Silma Sitara)
Auto Mechanic
Candle Making

Car Driving
Hand Bag/Purse Making
Mobile Repairing
Thread Work
UPS Installation/Repairing
Dough Flower Making
Heavy Machinery Operator
Block Printing
Welding
Ribbon Work

Carpentry
Hand Embroidery
Computer Software & Hardware
Machine Embroidery
Motor Cycle Repairing
Abbaya Making
Generator Repairing
Decoration Pieces Making
Auto Electrician
Croshia Work

Masonry
Beautician
AC & Refrigerator Repairing
Beads Work
Steel Fixer
Furniture Polishing
Washing Machine Repairing
Cooking
Home Appliances
Food Preservation
Motor Winding
Solar Panel Installation and repair
Our HRDC Center
The center is registered with City & Guilds UK (C&G), Government of Pakistan's Skills Development Council (SDC) and Government of Khyber Pakhtunkhwa's Trade Testing Board (TTB).
The courses and graduates are acknowledged by these specialized public institutions thus increasing their likelihood to be absorbed by provincial, national and even international job markets.
Fully equipped labs and workshops with desired sets of equipment. Thus participants get hands on experience in refining practical skills during a training session.
Two types of courses are offered; Residential and Non Residential. The center offers accommodation facility to at least 50 participants with all requisite facilities round the clock in order to provide the most desirable environment for enriching participants learning.
Mobile Training Units for Men & Women: Flexibility in terms of delivery is yet another unique feature of the center. Keeping socio-cultural context in view, the center has been able to establish need based temporary venues for delivering trainings in local areas.
The professional resource pool of experts in leadership, managerial, technical, vocational, and specialized trainings gives an edge to the center.
One of the integral components of these courses is to conduct Business Management Skills Training to orient participants on business cycle aspects which are widely acknowledged by partners and participants to orient potential future.
Training Management Information System (TMIS) is developed for backup of trainee's information and follow up. The internal impact assessment of trained youth shows that 79% youth have been able to find employment opportunities in the country and abroad.
The approach to develop, refine and adding new marketable and employable skills courses had been incremental.
Our Partners
Norwegian Refugee Council (NRC)
Danish Refugee Council
UN Agencies including (UNDP, UNESCO, UNICEF, UNFPA)
International Rescue Committee
Swiss Development Cooperation
Government of KP (BK Poverty Alleviation Programme)
Livelihood Strengthening Programme, AusAID
FOSI
FATA Secretariat Special Project
Secours Islamique French
CIDA
GIZ
Oxfam GB
IDRF
USAID ASF
British Council
Alif Ailaan
Pakistan Poverty Alleviation Fund
In District Peshawar 20 Afghan Refugees women are enrolled in two months Tailoring and Embroidery skills development course under "Provision of Livelihood Support to Afghan Refugees" project which is funded by UNHCR and implemented by SRSP
read more