About Us
Sarhad Rural Support Programme( SRSP) is a non profit company/ non government organisation registered under Company's Law, working in Khyber Pakhtunkhwa and parts of FATA. Its an intermediary organization which is based on the rural support programme( RSP) approach to community empowerment and economic and livelihood development. It was established in 1989 by members of the civil society, enlightened members of the government in their individual capacities, members of the academia, media and training institutions. In 2007 SRSP also initiated a programme for community empowerment and economic development in parts of FATA. In recent years because of its vast outreach in the communities, SRSP has had to play a prominent role in disasters that have hit Khyber Pakhtunkhwa and as a result humanitarian work alongwith development has become a core competency of the organization.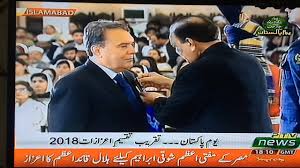 The Govt of Pakistan conferred the prestigious TAMGHA-I-IMTIAZ, civilian award to CEO-SRSP Masood-Ul-Mulk in recognition of his efforts for his life long dedication towards development of far flung Rural areas
Core Values and Principles
This is illustrated by the strong ties of reciprocity, social networks and many instances of collective action witnessed in our society which communities tap in times of adversity or for collective good. The RSP idea is based on the question: Can this capacity for self help be used for their development, reducing poverty and improving the quality of life of our people. The RSP's, based on evidence and experience, are convinced that an organization which is flexible, responsive, adaptive and learning and accountable can build trust with the communities and can do this effectively. The RSPs, as catalyst organizations, are modeled to play this role.
SRSP builds both the capacity of the community leaders and organizations and works through them.
Its long run vision is to create institution of the people which are downwardly accountable to their basic members and which have the capacity to undertake development on their own initiative. All its projects and programmes are designed to have maximum community input in design, implementation and monitoring and evaluation.
SRSP is committed to change; but it believes that change is only sustainable if it has wider ownership in the society and all stakeholders are brought on board. SRSP believes that by building awareness and competencies and empowerment within the communities it would ensure access of the communities to quality services, give them a voice and bring change in inequitable political and social structures that marginalize them.
SRSP is committed to gender equality and has put in place a gender policy which ensures that all of its staff and communities irrespective of their gender have equal opportunities and benefit from its programmes and activities.
SRSP does not have a project approach to development. It believes that in complex environments and chaotic situation with poor information, in which it operates ,an organizational approach to development works best. The organizational approach to development builds both the programmes and organizational structures necessary to implement them through interactions and learning in the field rather than building them as blue prints. Even after projects it implement end, the Core is retained to retain trust and relationship with communities on a long term basis. SRSP has built an endowment with hard earned assistance from the government and its own work to support such a commitment.
SRSP works on a scale. It believes that the issues of poverty can only be addressed if we work on a scale and make an impact.
SRSP believes that the government has the largest outreach and resources to address issues of poverty. It therefore goes the extra mile to work with government. But this is never done at the expense of its autonomy and independence