Your Title Goes Here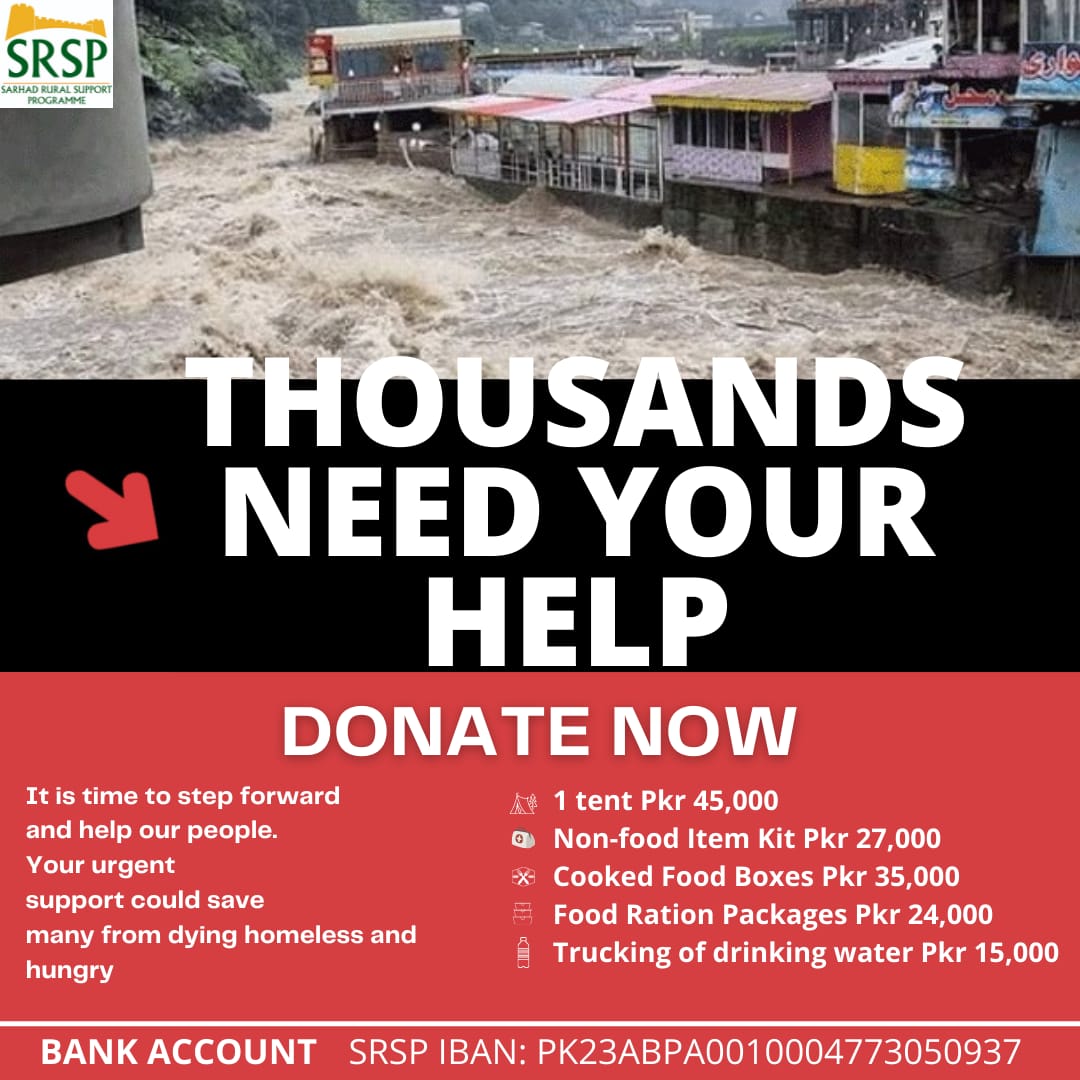 Transforming the Rural Landscape of KP & Newly Merged Tribal Districts
The Largest Non-Profit Non-Govt Organization working in Khyber Pakhtunkhwa and Newly Merged Tribal Districts formerly known as FATA
Mobilizing Communities
At the heart of SRSP's Programme is hundreds of community institutions of men and women with which SRSP works. SRSP builds the capacity of these organizations to plan, organize, raise and manage resources, implement projects, resolve conflicts, develop networks and influence policy through trainings, exposure visits , learning events and conferences. It also helps them to collectively undertake collective action to address their common problems by providing them with technical and economic assistance. At higher level these organisations form Local Support Organisations
Humanitarian Programme
SRSP has been in the frontline of humanitarian assistance for communities that have been ravaged by earthquake, war, IDP crisis and floods. It builds its humanitarian programme on the deep knowledge of the area and its people that it has. It has been involved in provision of essential supplies, data generation, advocacy, rebuilding of houses and community and public infrastructure and disaster risk and mitigation. SRSP has also represented the civil society at highest policy forums related to humanitarian work.
Human Resource Development
SRSP is an important institution in the field of human resource development in the development sector in the province. It provides leadership and vocational skills trainings to communities. It has a state of the art training center based in Hayatabad in Peshawar where trainings are undertaken. It also organizes trainings for women in the field because of the mobility problems they face. The training center has a comfortable hostel attached to it
Education & Gender
SRSP is committed to gender equality in its work. It acknowledges women as an important but marginalized segment of the society who need affirmative action to attain an equal status in the society. Gender is mainstreamed within SRSP's Programme and all its programme carefully analyse the impact they are making on gender equality. SRSP's gender programmes fully understand the context and cultural settings in which we operate and it has deviced indigenous strategies that would overcome these constraints. The organisation promotes gender equality programmes at the organizational, programmatic and community levels. Special programmes to support women are encouraged. A major initiative to link women with the market has bene working in the field for several years. The organizational environment encourages women participating in organizational and leadership positions. Its HR rules support these initiatives
Renewable Energy
SRSP is a leading producer of renewable energy in the province producing over 30 megawats of electricity through the community run small projects and social enterprise run larger projects. The larger project generate between 500 kv to 2 megawats of electricity. It has two international awards including the Green Oscar Ashden Award at London. SRSP has worked with EU, KFW, AusAid and Provincial PEDO organisation to undertake this work. SRSP is also working on solar energy particulary in pumping water to arid regions through tube wells. Climate change has hit the areas where SRSP works in a hard way and addressing community vulnerabilities is very important for the organisation so that communities can cope with the climate change thrown up issues.
Physical Infrastructure Development
Large parts of the areas where SRSP works have little access to public services because of the long geographical distances, thin spread of population and difficulties of setting up systems to address needs by public service delivery providers in such areas. SRSP has a huge portfolio is this sector which include works on irrigation water, drinking water, roads, bridges, hydro electricity generation. Thousands of families benefit from these projects . SRSP has both community built infrastructure and contractor built ones
Rural Microfinance
The provision of rural financial services in an area where the spread of population is thin, state of infrastructure is poor, the livelihood nature is a subsistence oriented one and the cost of delivery is very high, is very challenging. SRSP has run micro finance with little success until an indigenized version of community banks was adopted. SRSP has also initiated a system of community investment funds which combines micro finance and social protection to the system of community banks which has been very popular among the highly conservative women.
SRSP has supported small value chains focused on poorer groups in different commodities and also addressed constraints which farmers face at different stages of the value chain. Milk, flower, meat, honey, persimmon,and olive production have been successful interventions.
Ashden Green Energy Award
Tamgha Imtiaz
Govt of Pakistan
Winner of UK Energy Initiative Award, 2017
Induction in UNESCO Knowledge Database

Sarhad Rural Support Programme( SRSP) is a non profit company/ non government organisation registered under Company's Law, working in Khyber Pakhtunkhwa and parts of FATA. Its an intermediary organization which is based on the rural support programme( RSP) approach to community empowerment and economic and livelihood development. It was established in 1989 by members of the civil society, enlightened members of the government in their individual capacities, members of the academia, media and training institutions. In 2007 SRSP also initiated a programme for community empowerment and economic development in parts of FATA. In recent years because of its vast outreach in the communities, SRSP has had to play a prominent role in disasters that have hit Khyber Pakhtunkhwa and as a result humanitarian work along with development has become a core competency of the organization.
Pakistan is an energy deficient country as well as very vulnerable to climate change. By working with local communities, SRSP with the financial support of the European Union has set up tens of small scale hydropower units providing stable and sustainable electricity to remote villages. In Chitral, the EU-funded PEACE project is supplying electricity to two-thirds of the city allowing small businesses to flourish.
Our Partners In Development